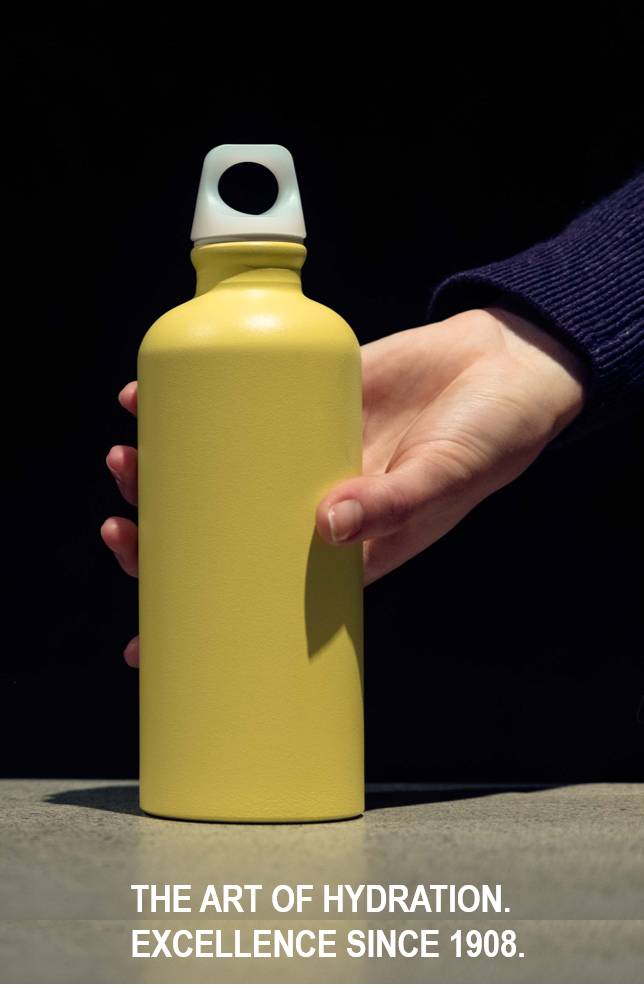 Created in 1908 by Ferdinand Sigg, the Swiss brand is today the reference on the international bottle market! Specialists in aluminum kitchen and kitchenware, in 1999, Sigg decided to focus on what it does best: reusable aluminum bottles.
It is no longer necessary to present the legendary Traveler. Its iconic shape, its lightness and its longevity have built the reputation of this 100% recyclable aluminum bottle, always made in Switzerland.
Recognized for their exceptional quality, functionality and design, Sigg products are today a companion to the everyday life that we proudly wear at every stage of our lives. The introduction of the Traveler bottle at the prestigious Museum of Modern Art (MoMA) in New York in 1993 offers it the greatest recognition. Sigg has achieved the feat of turning a functional product into a true coveted fashion accessory.
Finally, how to talk about reusable bottles without addressing the ecological aspect? Adopting a Sigg bottle is also a simple task for the environment; everyone becomes the new ambassador of a sustainable and responsible way of life.
A bottle for every use!
Thanks to its great diversity of materials, capacities, features, everyone will find the bottle he needs and who looks like it!
Aluminum bottles – these bottles are lightweight, sturdy and easy to carry. The screw cap guarantees a perfect seal and opens with a simple twist. Thanks to the lining, the liquid does not come into contact with the aluminum, for a neutral taste. The core of SIGG's business, all aluminum bottles are made in workshops in Switzerland.
Stainless steel insulated bottles – a perfect double-wall stainless steel design to keep your beverage warm or cool all day long. The specificity of this bottle lies in its cap, benefiting from a patented system to unlock, open, drink, close, lock with one hand! Convenient in transport, hiking or office.
Glass bottles – a healthy, natural and ecological material, totally trendy! Made from heat-resistant borosilicate glass or recycled glass, these bottles impress with their simplicity and modernity.
Tritan bottles – transparent, light, unbreakable, odorless, these are the bottles of choice for sports and all outdoor activities.
Bottles for kids with endearing patterns and bright colors – like all SIGG water bottles, children's bottles are easy to use, waterproof and hygienic. They include a cap with a leakproof security and a protective cap to keep the tip always clean. They are made in Switzerland.