OXO is the global benchmark in kitchen utensils, making its reputation over time by offering reliable and durable utensils, corresponding to all cooking needs.
It all started with Mr. Sam Farber who designed the first vegetable peeler for his wife, who had severe arthritis. He designed a functional and minimalist peeler, but above all, with a wide and flexible handle made in Santoprene®, which stays comfortable during repetitive gestures.
This handle will become one of the distinguishing characteristics of the OXO brand, it will be improved to better absorb the pressure and be adapted to all types of hand.
Make everyday better, every day.
At OXO, we believe there is a better way. We look at everyday objects and activities, and we see ways to make things simpler, easier, more thoughtfully designed…better. We see the big picture and the small details, and we think through it all: peelers and graters and all kinds of cooks, coffee makers and coffee drinkers, dusters and compulsive cleaners, booster seats and tots who need an extra boost.
We consider how a tool functions—how it fits into hands, how it fits into lives—and we design a better way. With OXO tools, people who love tasks love them more; people who hate tasks hate them less. We see a better way, and we make it happen: better quality, better performance, better experience, better day.
For this, our products combine many advantages: sophisticated design, innovative features, outstanding quality and rock-solid reliability, great comfort for the user.
A comprehensive universe for home
Kitchen utensils: the OXO history started with the vegetable peeler, however today, we are proud to offer a range with more than 150 references to make any culinary preparation easier! It's no longer necessary to introduce our salad spinner which is now established as an emblematic product. Salad, pastry, meats and sauces, fruits and vegetables… Discover our different ranges!
Storage: "POP it. Fill it. Stack it." POP containers come in a wide variety of stackable sizes and shapes to fit all your needs! Rectangular, square, fine, with or without spout, our containers are practical, open with a push-button making them very airtight to keep more longer all the dry ingredients! Discover other products in the range such as reusable lids, Lunch boxes or Smart SealTM glass storage boxes.
Organization and cleaning: storage solutions, sinkware caddies, cleaning brushes are some examples of simple daily utensils but if they are well thought out, make your life easier.
Bathroom: high-quality accessories, specially designed for the bathroom for optimal results, that's the OXO promise.
1990
Swivel peeler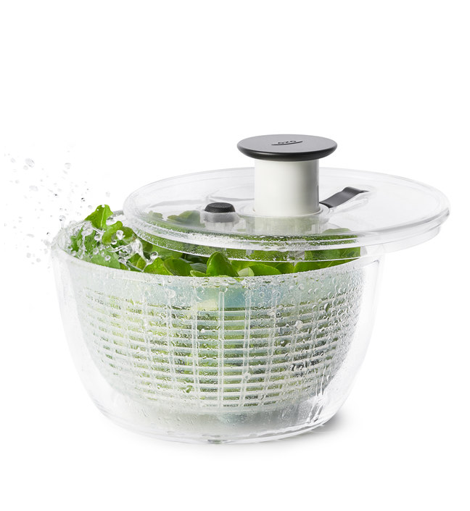 1998
Salad spinner
2001
Angled Measuring Jug
2007
POP containers