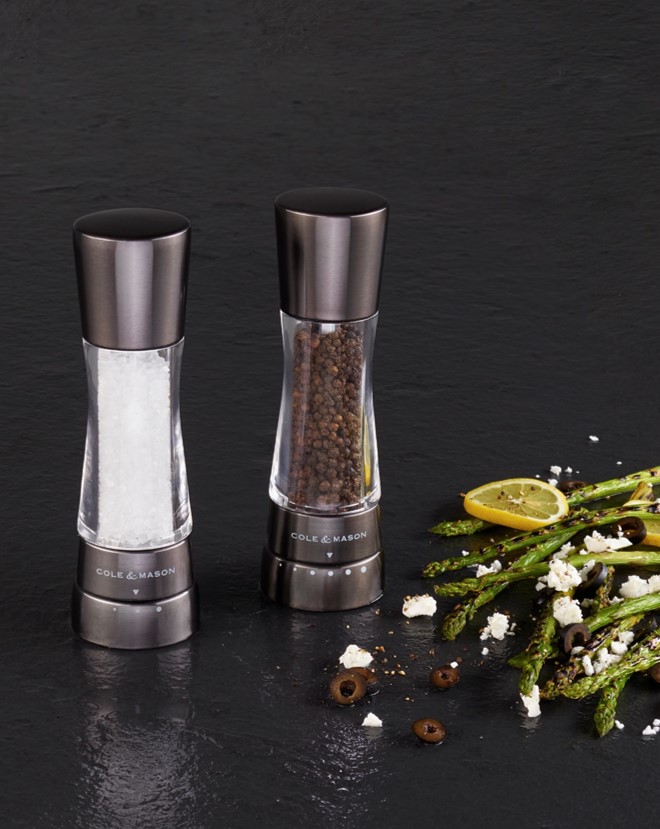 An English company founded in 1919 by Julian Cowen, Cole&Mason produced the first acrylic pepper mill in 1975. Since the 1990s the company has been the global market leader in salt and pepper mills.
Cole&Mason products are technically and aesthetically well designed, which makes all the difference when cooking. The contemporary, elegant, timeless design features a combination of steel and acrylic, creating a very unique look, while the high-performance, durable mechanism perfectly grinds the salt and pepper, revealing its full flavour.
The required degree of grinding can be selected on each Cole&Mason mill, using the Gourmet and Gourmet Precision mechanisms, which come with a lifetime guarantee.
100 years of innovation
Innovation has always been at the heart of our strategy, which is why we are proud today of the world leader in salt and pepper mills.
It is reflected in terms of design, but also obviously in the technology of our mechanisms in order to offer ever more functional and efficient products.
To celebrate its 100th anniversary, Cole&Mason has created a new mechanism for pepper mills, Precision +, the best mechanism in the world: 50% more flavors released, a better flow of the grinding and a mechanism without blocking. On this occasion, we were inspired by our first mill, Peter Piper, to draw the Knightbridge birthday box. A tribute to 100 years of know-how, 100 years of innovation.
The seasoning expert
Our passion for cooking and flavours doesn't stop there. Seasoning a dish means adding salt and pepper, but also adding herbs and spices to enhance the flavour.
Cole&Mason has therefore expanded its product range to include :
salt and papper mills
spice mills and carousels
oil and vinegar accessories
fresh herb storage keepers.
Our ambition is to help all lovers of good food enjoy the best possible cooking experience, by supplying quality equipment and providing tips on how to use seasoning to bring out all the flavours of your food.